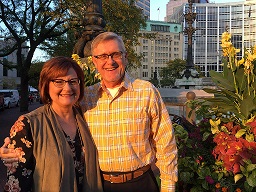 Pastor
Nathan and Pam Watson have been serving at Halteman Village since November,2016. Nathan and Pam have lead 5 other churches since 1981 in Pennsylvania,Virginia,Georgia,and Indiana. They have 2 daughters . Juliann is a nursing student at Cedarville University and Jennifer is a nurse living in Plain City, Ohio. She is married and they have 1 child who gets spoiled as often as possible. Nathan and Pam are both graduates of Tennessee Temple University and Nathan did his graduate studies at Temple Theological Seminary and Liberty Seminary. Pam is a a nurse and loves to decorate, cook,read, and shop. Of course the order needs to be reversed.( With 3 nurses in the family, Nathan thinks there might be a chance one of them might take care of him when he gets old). Nathan loves sports especially all things college basketball and football. He also loves biking, a round of golf with friends and a competitive racquetball match.In addition to leading the church, he serves as a chaplain for Marketplace Ministries which is an international organization that provides on site chaplain services to businesses that request them. Nathan and Pam have a deep desire to see people experience God's grace as they have in their lives and aid them in their growth in His grace.
---
History
Halteman Village Baptist Church began meeting in a home at 4000 N Oakwood Avenue in January of 1960. The first Pastor was called on September 14, 1960. The Constitution and By-Laws were adopted on September 28, 1960 and on October 2, 1960 thirty-seven charter members held a Church service.
The sanctuary and fellowship hall was dedicated in October 1961 and the educational wing was dedicated in October 1968. Handicapped accessible restrooms were remodeled in 2007. The halls were refinished in 2009. The fellowship hall was renovated in 2010. The sanctuary was re-dedicated following renovation in 2015. A newly renovated kitchen area was completed in 2017.
Churches at Gaston, Yorktown, and three in Muncie were planted by Halteman Village Baptist Church between 1962 and 1973. We are currently the sending Church for the Muncie Chinese Christian Fellowship
Our Pastors have been:
1960-1969 Lyndon Collings
1970-1974 Jack Park
1975-1978 Kenneth Sellers
1978-2008 Dr. Ron Ross
2008-2015 Tim Overton
2016-2021 Nathan Watson